Porsche Taycan Will Come With 3 Years Free Charging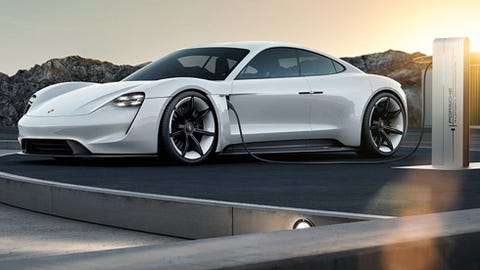 The Porsche Taycan will come with 3 years of free unlimited charging!
Porsche announced it will provide Porsche Taycan owners with fast-charge services through a partnership with Electrify America when the electric sedan launches later this year. Porsche Beaverton will also install charging stations for our customers to use.
Providing free charging and ample stations to charge the Taycan, drivers should have no worry about their range.
The 600-horsepower, four-door sedan will be able to travel around 310 miles on a fully charged battery and add 62 miles of range in four minutes. The Taycan's 800-volt battery can absorb rates up to 350 kilowatts, allowing for faster charging.
That's quicker than any other vehicle on the market including Tesla, whose batteries absorb 120 kilowatts.
By July 1, Electrify America expects to operate 484 charging sites nationwide, located 70 miles apart on average. Each site will house between five and 10 charging dispensers, including at least two 350 kilowatt stations. The Reston, Va.-based company plans to begin rolling out "hundreds of additional charging sites" during the second half of the year.
Porsche dealers will invest around $70 million to install fast-charging stations at the automaker's 191 U.S. dealerships. Most locations will deliver up to 320 kilowatts using Porsche's own DC charging system, with the remainder installing 50 kW fast chargers.